Jackie Chan Action Kung Fu
<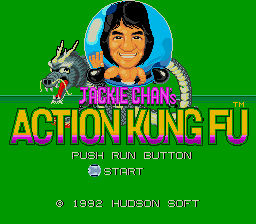 >
Jackie Chan's Action Kung Fu is an action platform video game developed by Now Production and published by Hudson Soft for the TurboGrafx-16 in 1991. The game was ported from the 1990 NES version of the same name. In Japan, the game is known simply as "Jackie Chan".
General Info
Release Date:
Players: 1
Format: card - 4 Megabit
Discussion
Nobody is talking about this game yet... You really should start a conversation. Now. Really... do it.
Links and Resources
Companies and Credits
© 1992 Hudson Soft

Amazon Test
Array
(
    [OperationRequest] => Array
        (
            [RequestId] => b0547520-4fbd-4bd1-8719-ce9a43fe85a1
            [Arguments] => Array
                (
                    [Argument] => Array
                        (
                            [0] => Array
                                (
                                    [@attributes] => Array
                                        (
                                            [Name] => AWSAccessKeyId
                                            [Value] => AKIAI4BVNWMP7CXRHX4A
                                        )

                                )

                            [1] => Array
                                (
                                    [@attributes] => Array
                                        (
                                            [Name] => AssociateTag
                                            [Value] => techpitt-20
                                        )

                                )

                            [2] => Array
                                (
                                    [@attributes] => Array
                                        (
                                            [Name] => ItemId
                                            [Value] => B000FN946S
                                        )

                                )

                            [3] => Array
                                (
                                    [@attributes] => Array
                                        (
                                            [Name] => Operation
                                            [Value] => ItemLookup
                                        )

                                )

                            [4] => Array
                                (
                                    [@attributes] => Array
                                        (
                                            [Name] => ResponseGroup
                                            [Value] => Offers,OfferFull
                                        )

                                )

                            [5] => Array
                                (
                                    [@attributes] => Array
                                        (
                                            [Name] => Service
                                            [Value] => AWSECommerceService
                                        )

                                )

                            [6] => Array
                                (
                                    [@attributes] => Array
                                        (
                                            [Name] => Timestamp
                                            [Value] => 2018-04-22T17:55:31Z
                                        )

                                )

                            [7] => Array
                                (
                                    [@attributes] => Array
                                        (
                                            [Name] => Version
                                            [Value] => 2011-08-01
                                        )

                                )

                            [8] => Array
                                (
                                    [@attributes] => Array
                                        (
                                            [Name] => Signature
                                            [Value] => jzMvBdefbnAIYJQ+ZTNHg0+NYRP5hFXgI+0pffJ72Vk=
                                        )

                                )

                        )

                )

            [RequestProcessingTime] => 0.0230639650000000
        )

    [Items] => Array
        (
            [Request] => Array
                (
                    [IsValid] => True
                    [ItemLookupRequest] => Array
                        (
                            [IdType] => ASIN
                            [ItemId] => B000FN946S
                            [ResponseGroup] => Array
                                (
                                    [0] => Offers
                                    [1] => OfferFull
                                )

                            [VariationPage] => All
                        )

                )

            [Item] => Array
                (
                    [ASIN] => B000FN946S
                    [OfferSummary] => Array
                        (
                            [LowestNewPrice] => Array
                                (
                                    [Amount] => 2799
                                    [CurrencyCode] => USD
                                    [FormattedPrice] => $27.99
                                )

                            [LowestUsedPrice] => Array
                                (
                                    [Amount] => 2200
                                    [CurrencyCode] => USD
                                    [FormattedPrice] => $22.00
                                )

                            [TotalNew] => 1
                            [TotalUsed] => 5
                            [TotalCollectible] => 0
                            [TotalRefurbished] => 0
                        )

                    [Offers] => Array
                        (
                            [TotalOffers] => 0
                            [TotalOfferPages] => 0
                            [MoreOffersUrl] => 0
                        )

                )

        )

)