Welcome to the mid-January "Obey Wednesday" extravaganza! Today we bring you a six pack of goodness, including one issue of EGM and a whopping FIVE issues of GamePro! This set of magazines contain information on some of the earliest TurboGrafx releases as well as some of the final releases under TTI.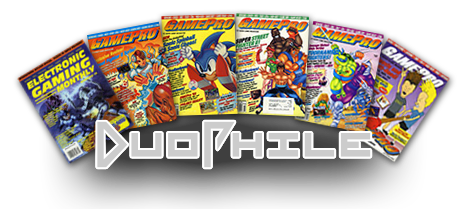 EGM Issue 14 (September 1990) gives you a glimpse inside of the 1990 Tokyo Toy Show, short pre/reviews of several early games, and an in-depth look at Psychosis.

GamePro Issue 49 (August 1993) is chock full of TTI advertisements and contains a review of Vasteel.

GamePro Issue 41 (October 1993) has tips and tricks for several TurboGrafx games as well as a preview of John Madden DUO CD Football.

GamePro Issue 52 (November 1993) assures us that the Intelligent Link (SCSI CD-Rom interface for PC/MAC) is indeed going to be released (never was) and does Dungeon Explorer II injustice with a criminally short review.

GamePro Issue 53 (December 1993) disappoints anyone dreaming of a Turbo Christmas by encouraging its readers to not buy a Duo. Bonk makes a fan art appearance, and Madden football gets a negative review.

It was game over for our beloved Duo by the time this issue went to press, but surprising optimism was expressed in anticipation of the Duo's successor, the PCFX.